Information
When purchasing your new Burmese the first thing is to make sure the breeder you are purchasing from is a Registered Breeder with a Cat Registering Body and also with their Local Council. I am a registered breeder with Qld Feline Association Inc and have a breeding licence with Moreton Shire Council.
My breeding cats are all of excellent health and temperament and have been DNA tested negative for Hypokalemia.
My cattery for my adult cats has been constructed with their health, comfort and wellbeing in mind. We have large walk-in units with high shelves, outside runs that come off their units so our cats have plenty of sun and fresh air. Breeding Burmese can be very territorial and protective of their babies and so to keep peace and harmony the adults cats do live in a wonderful cattery. The girls come inside when they have their babies and so get to spend some time inside however the stud boys life is one that I take with respect for the job he has to do. Some would say it is a good life and that is what I try to provide for my boys.
PHOTO OF THE CATTERY -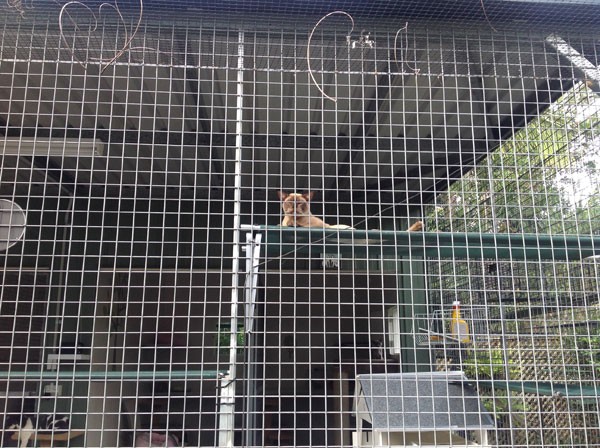 My kittens are raised in the house underfoot. A lot of time and devotion is given to our babies to enable them to shine and be the best possible pet they can be for you and your family. They start off in a large kitten pen, so mum feels secure and safe with her babies and as they start to walk and run they do venture out into the rest of the house. By the time they leave me to go onto their new life they can pretty much run, jump and bowl in and out of the kitten pen as they wish. They are brought up with two poodles and all the noises that would be in your family home so they come well adjusted and ready for their new life with you.
PHOTOS of my KITTEN PEN when NEW BORNS
We do not freight pet kittens interstate as I believe it is important for you to meet me, my cats and feel happy about the environment, health and temperament of our cats. You can only be certain of this if you visit us personally.
All kittens born after 1st January 2021 will come microchipped, desexed and first vaccination, 6 weeks pet plan insurance and a Kitten Pack which includes Royal Canin Food.
PLEASE READ our FAQ PAGE as you may have more questions you would like answered and hopefully we have addressed them all there.
Once you decide on a Belshogar Burmese we will provide you with a fact sheet & diet sheet giving you all the information you require to have everything ready for your new kitten's arrival.
A good scratching post is essential as Burmese love their scratching posts. A true investment in your Burmese and a must.
A carry cage is needed to pickup you Burmese kitten - please purchase one for an adult sized cat and not a kitten. We do have them available, much better quality than available at most pet shops for generally a better price. They are approved for airline travel and will last for years and screws together not clips that break.
PHOTO OF CARRY CAGE
Lots of toys, small and educational to keep you Burmese active. As I highly recommend you keep your Burmese as an indoor cat you will need to substitute the play and investigating for them inside. This is a great on-line website for most of your needs. https://onlinepetshops.com.au/